Here we will discuss people that we think we have identified in the unknown photo album.If anyone finds a photo that is incorrectly identified, please let us know, we welcome any correction or further information.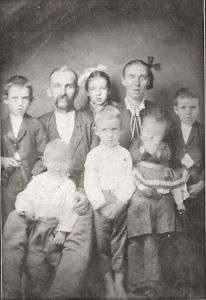 Known Wells Photo taken 1883
The truly known people in this photo are Adults, sitting: Samuel Wells and Cynthia Ross Wells. The little girl on Cynthia's lap we know to be Polly Jane Wells b. 1882. The little boy on the left front should be Zenos Wells, boy center should be Oran Wells, boy far right should be Elbert Elmer. This is where it gets fuzzy for us. The little boy standing beside Samuel could be Elby Everett Wells or Orval Fisk Wells we can't be sure. The last person should be Amy Estelle Wells back center. Addendum: Can the child on Cynthia's lap be a boy and not Polly? Is the "dress" a girl or boy's clothing.